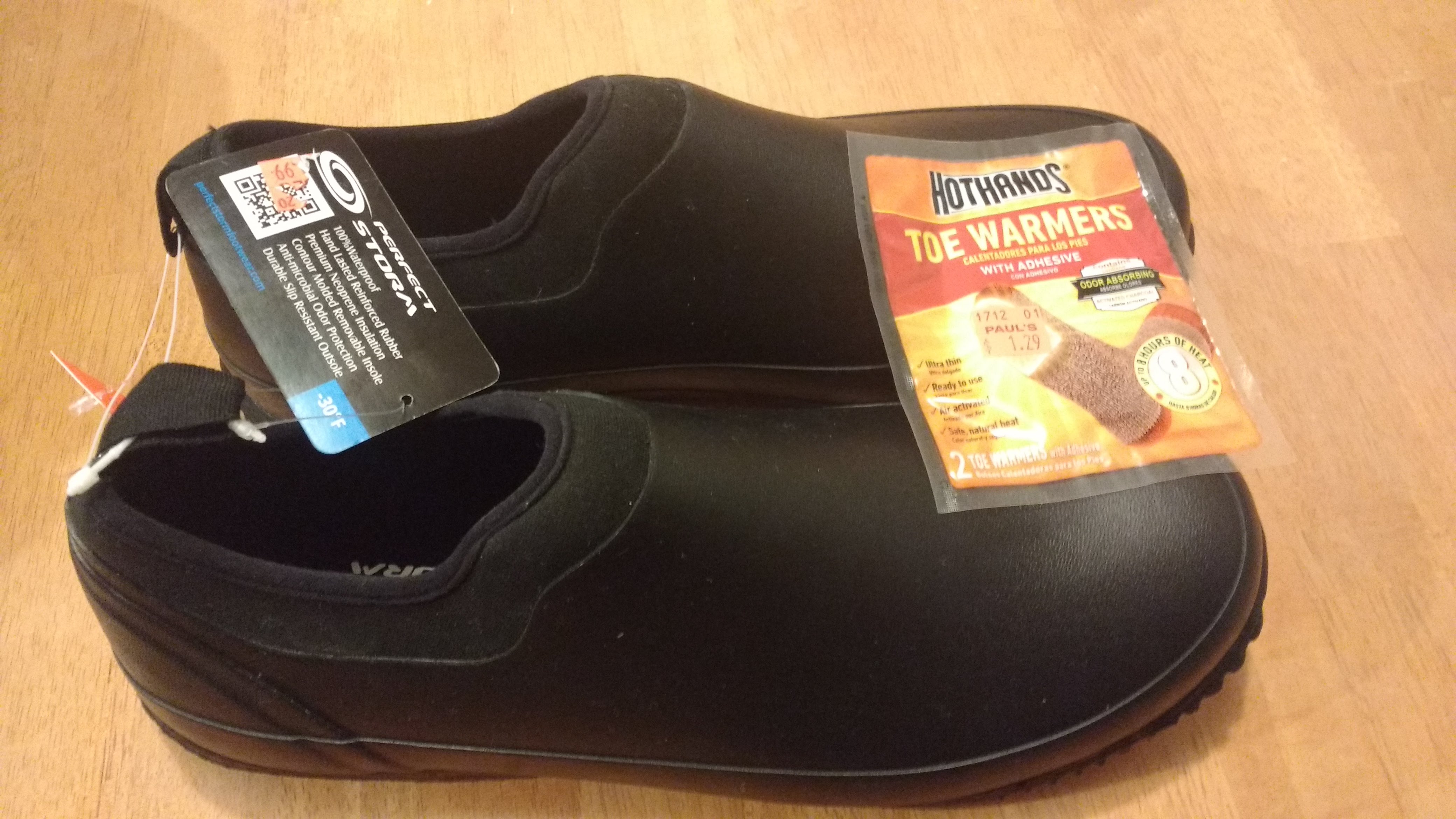 Sharing this, as it's my current go to setup for winter commuting. And not prohibitively expensive.

Shoes
The shoes are Perfect Storm Vapor IIs, a kind of all-rubber version of the famous Merrell Jungle Mocs. They slip on and are completely water proof. The fact that there are no laces to deal with is a win, though some may find the lack of ability to tighten and loosen the fit to be a detraction. For me, warm, windproof, and dry are the criteria upon which I measure success. And let's face it, laces be damned—the fact that these shoes are solid rubber does wonders to keep the wind off my toes. And they certainly won't let the water through, even in the wettest of conditions.
The tag affixed to the shoes suggest that they are good down to -30°F. I'm not sure what to make of that, as they don't feel tremendously insulated, and my first foray out into the frigid wilds resulted in cold toes. But further tweaking has done wonders to keep things toasty and suggests the Perfect Storms may be a solid budget performer and non-bike-specific shoe for the cold weather bicycle commuter.
I picked mine up at the local discount hardware store for about $49USD. It seems like you can find them pretty easily within a ten dollar range of that amount.
Socks
You're going to have to experiment here and find out what works for you, and what you have available. I was gifted a bunch of 35 Below socks for Christmas. I had never heard of them before, and curiosity about the "aluminum threads" got the better of me. I went out for a ride in 14°F weather with them. Big mistake. My feet came back blocks of ice.
They are thin, tight (buy a larger size than you are accustomed), and not at all suitable as your only sock in cold (or chilly) weather. But as a liner, they do alright.
My normal setup is a pair of these against the skin, and a pair of Smart Wool Heavy Trekking Socks (or something similar) over them. In my Vapor IIs, my feet stay toasty into the low 20's. Once I hit the teens, however, it's time to add the toe warmers.
Toe Warmers
Toe warmers are small sachets of chemicals (iron filings and a reagent) that affix to your sock with a temporary adhesive. In the presence of oxygen, an exothermic chemical reaction occurs. The iron oxidizes and the packets give off heat. There are many varieties and brands available, but most are variations on the same: they stick to the sock, they use the same chemical reaction, and they give off heat—provided there is oxygen available.
Herein lies the rub. The first time I used these, I followed the instructions (affix to the bottom of your sock, beneath the toes and ball of your foot.
Using them this way did nothing to keep my feet warm. Sure, they were warm when I affixed them…but as soon as I put my feet in my shoes (whichever I was wearing) and began to pedal, they quickly became starved of oxygen and stopped giving off heat.
After a little Googling, I've learned to place them over my toes instead…and between layers of socks. When I do this, my feet stay decidedly warmer. When things start to feel chilly down there I'll wiggle my toes around to try to let new O2 breathe into the shoe and keep things warm.
It's certainly more of an art than a science, so YMMV. But so far, this setup allows for flexibility between a large variety of temperature ranges and weather conditions without breaking the bank.